Rosario Galatioto exhibits at the Castle of Gordes from January 10th to March 06th 2022 !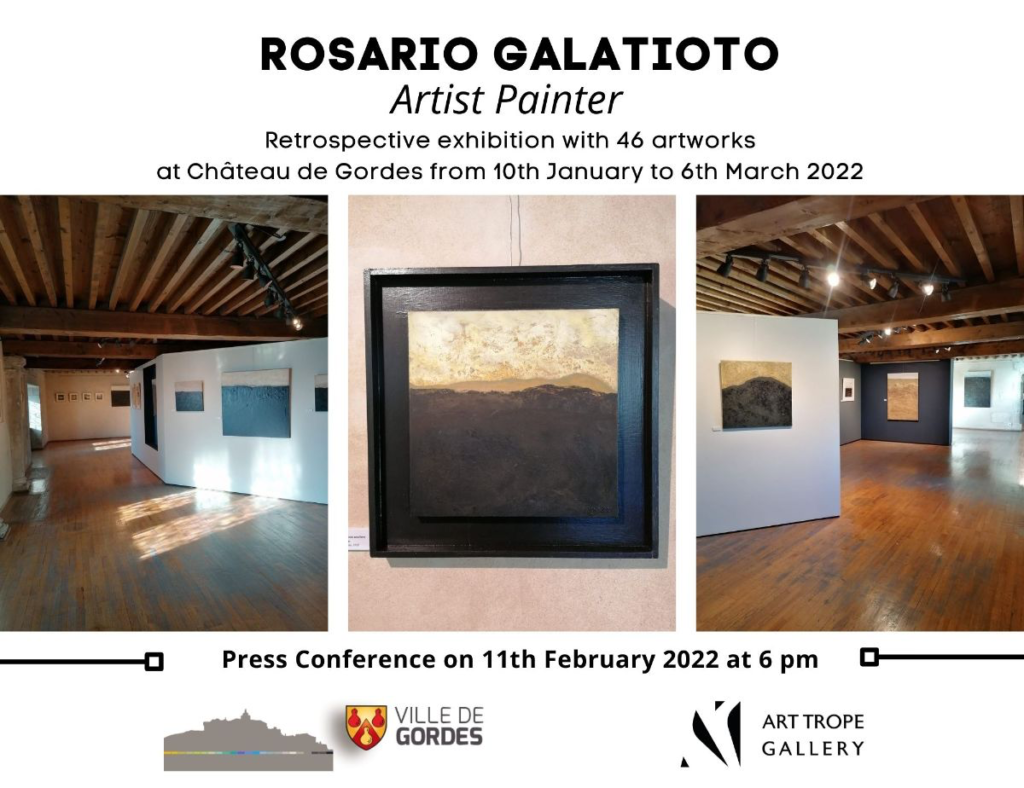 Art Trope Gallery is delighted to start this new year with the retrospective exhibition of our Painter Rosario Galatioto at the Castle of Gordes, formerly the museum of Victor Vasarely, located in the heart of the city center. The Press Conference will be presented by Mr. Mayor Richard KITAEFF on Friday 11th February 2022 at 6 pm at the exhibition.
The word "painting", which, by definition, expresses artistic intention, is far too reductive and simplistic a term to accurately describe Rosario Galatioto's technique. Galatioto's vision represents a primitive, almost archaeological language which suggests an intuitive approach to the materials used. His landscapes are more like an X-ray than an attempt at an interpretation of space. Galatioto's work thus plays with the boundaries of vision and subjectivity, sometimes leading the artist to produce more graphic compositions in collage form.
Over the course of a career that has spanned more than forty years, Galatioto has exhibited internationally at numerous galleries, museums, art fairs and exhibitions, whilst also working alongside architects as an interior designer. Galatioto's works are included in numerous art collections in France, Belgium, Switzerland, Italy, the US and the UK.
"Based on the landscape geologically that the visible part is the earth's crust, I have always been fascinated by what is hidden below. Both in my series "Strates" and "Landscapes From Nowhere", I imagine this hidden world, sheltered from erosion and all human activity, I feel its complexity. My landscape borrows only few elements from the definition that we have of it: a horizon line that delimits two more or less clear planes corresponding to the airy part on one side and the material on the other side that we have wandered for tens of thousands of years and which we transform according to what we call progress. Indeed, it is one of the keys to my work and ly researches: the act to paint is like traveling from light to darkness, from movement to stillness, from the superficiality changing appearance to real being and permanent." – Rosario Galatioto
---
To receive the press file, contact us :