Art Trope Gallery features Painter Matheo de Bruvisso in a dedicated article!
We are pleased to present painter Matheo de Bruvisso :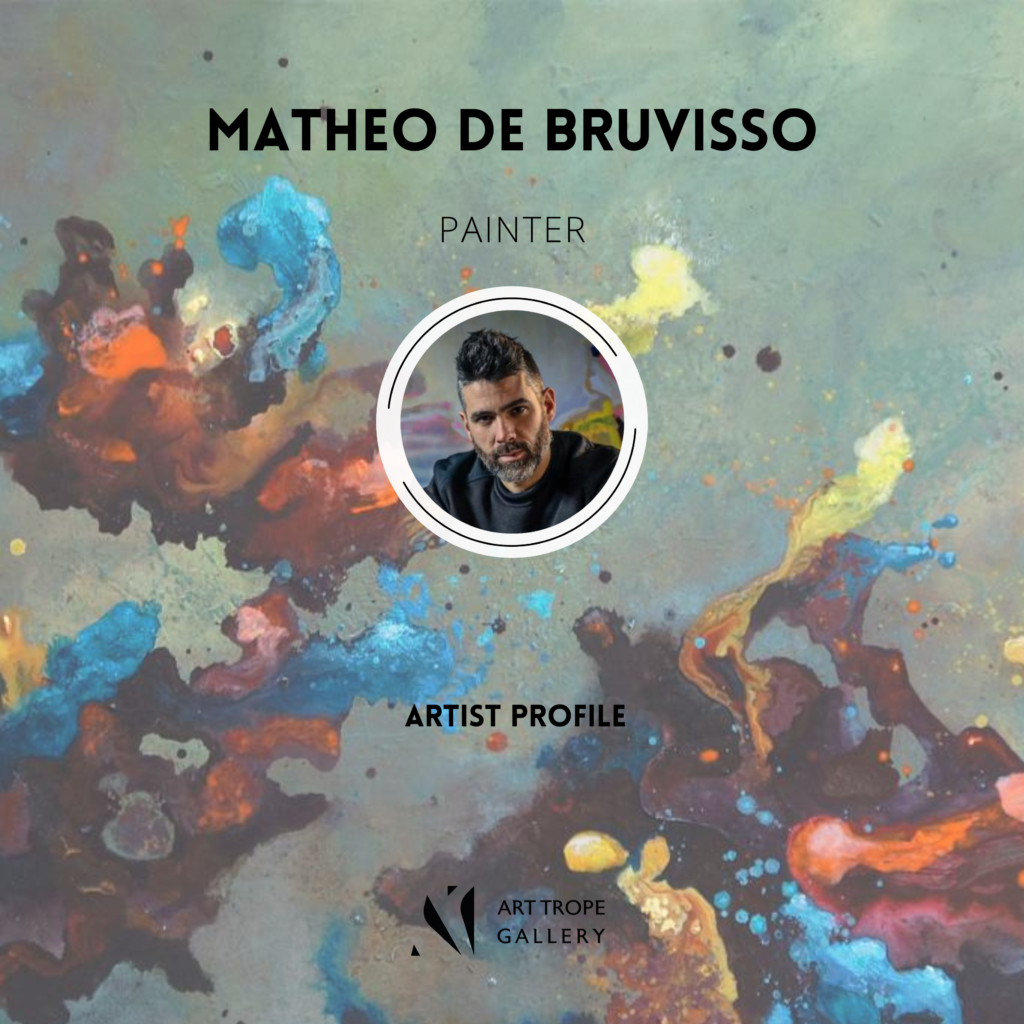 Matheo de Bruvisso is a French multimedia artist who has excelled for many years in various artistic fields, mostly as a painter, poet and musician.
Ever since he was a child, he has been exploring the different techniques offered by the world of Fine Arts, switching from academic drawing to expressionism, from figuration to abstraction. Matheo de Bruvisso went on to study Applied Arts at prestigious schools such as Olivier de Serres, the École Nationale Supérieure des Arts Appliqués et des Métiers d'Art and at Strate College Designers.
As of 2004, he worked as a freelance designer for Swarovski, Kenzo, Fnac, Eurocopter, PPR, Peugeot, etc. However, he soon got out from the constraints of industrial and commercial production to focus solely on pure artistic creation.
Simultaneously, Matheo co-founds the music group Dirtyphonics, which quickly reaches worldwide fame. For a few years, he composed a very energic music that reached more than a hundred million views on YouTube. He works with artists like Skrillex, Marilyn Manson, The Bloody Beetroots, Steve Aoki, Benny Benassi or Linkin Park and plays for huge crowds in the biggest festivals in the world like Coachella, EDC, Glastonbury, Pirate Station, Tomorrowworld, Solidays, etc.
In 2005, Matheo de Bruvisso, using his graffiti alias "Maze", held his first solo painting exhibition in Amiens, at the Briqueterie, after a month residency with the photographer Mickael Troivaux. Then in 2007, the gallery l'Issue invited him to paint with KOA (FR), Alëxone (FR), Rutger Termohlen (NL), Collin Van Der Sluijs (NL), Jordae (USA), etc. during the international exhibition UNTITLED. A few months later, he performed a live painting show there, where he invited the duo Tha Trickaz to play one of his very first Parisian concerts. In 2008, the gallery l'Issue welcomed him for a solo exhibition that will give him the opportunity to show a series of about a hundred small formats organized as a labyrinth. Since then, other exhibitions have been held outside Paris, notably in Lyon at Galerie Terremer or at the Orangerie and in Geneva at the Cité du Temps.
Currently, Matheo keeps on improving his technique and his subjects while investigating new spheres. He also continues to create music (a first solo album should be released in 2023), literary composition (he is planning to publish a second poetry book), organizes creative meetings with other artists, professionalizes himself in photography… It seems nothing can stop this intense artistic thirst for creation that drives him.
Matheo de Bruvisso is regularly exhibited and his works are part of private collections all over the world.
Looking for the shortest way between his will to paint and the work done, Matheo de Bruvisso tries to capture the very origin of the desire, the driving force behind all creative or destructive actions. So the work is a synthesis of its origin and its finality as a single entity, it represents its own reason to exist, it is "a consequence that represents its cause".
From this protean painting, we usually see emerging both the power of disaster and the inexhaustible energy of rebirth, which Matheo likes to acknowledge as a dual nature opposing the forces of Chaos to those of the Cosmos.
While the Forces of Chaos are those of destruction, dissolution or splintering, they are just as essential to life as those of the cosmos, which order, organize and assemble. Only a constant tension between these two poles (cosmos/chaos) makes the experience of life possible. Determined to demonstrate this understanding of the living in his paintings, Matheo reveals the invisible yet so prevalent world, which could be summed up as "a desire to be". As if the entire existence, both in the intimacy of the human being and in the whole universe, was driven by the same life impulse.
With his paintings, Matheo de Bruvisso invites us to dive into our innermost being to discover a powerful potential: our amazing ability to live a rich and intense life, as long as we acknowledge and free the chaotic and cosmic forces at work within us.
"I offer "Abstract Landscapes" that could be understood as different worlds in which the elements are unknown to us and the substance remains mysterious."
"One feels the manifestation of future forces at work."
---
To learn more about Matheo de Bruvisso, you can visit his virtual exhibition and his social media:
---