Art Trope Gallery features Painter Isabelle Vougny in a dedicated article!
We are pleased to present painter Isabelle Vougny :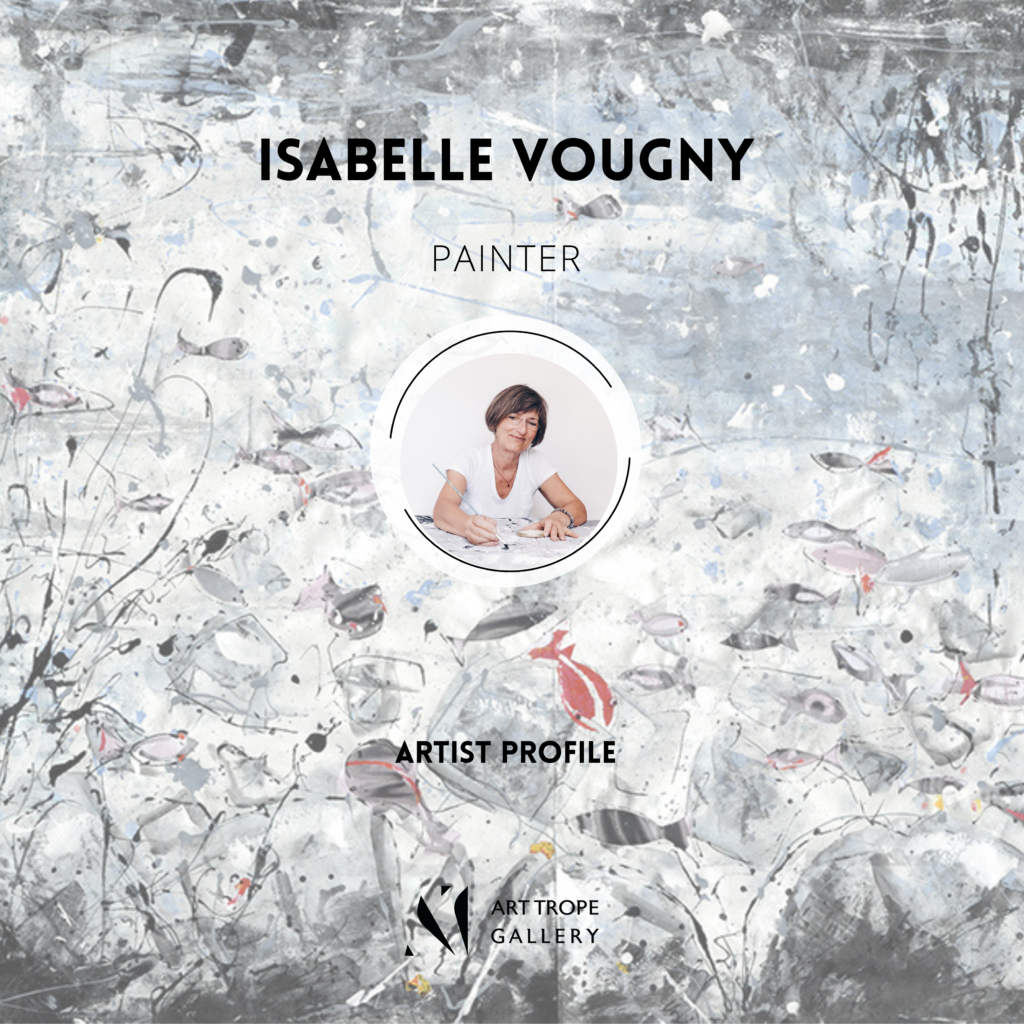 Isabelle Vougny studied at the Beaux-Arts in Bourges and in Paris in a workshop before turning to styling and design in Tournai, Belgium. After many years of collaboration with architects and designers, she finely devotes herself fully to her painting, following the footsteps of her two masters, painters and sculptors: her father and André Poirson. Putting inner nature and cosmic nature at the heart of the work, painting the metaphor contained in everything, the emotions distilled by the elements, in a world of fragile equilibrium. Isabelle Vougny is by such a painter of nature, the one who soothes and regenerates with an inexhaustible source of strength, serenity and joy. For the artist, painting is a way of taking action, of asserting one's role in our society by creating links with one's audience.
It is in Isabelle Vougny's workshop that her work is felt as a real ecosystem where fantasy and diversity are at the service of essential realities that are timeless and simple. A vegetable garden of goldfish, a few herbs, an environment where nature is queen. As underlined by Paul Rassat, Press Editor, "Isabelle Vougny's artistic approach is deeply candid, of an unfiltered purity, without intermediary. Intellectualism would create a distance from it". It is viscerally poetic, animated by the emotions and sensations that connect us to nature. This Nature which surrounds us and resonates with our sensations, playing in harmony with the four elements: air, earth, water – so present in Isabelle Vougny's works – and fire that she invokes metaphorically by quoting Paul Klee " It is the one who watches the work that finishes it." It is the fire of the gaze, of consciousness and emotions which is transmitted from the brush on the canvas to the viewer who never stops completing the works in a movement of self-creation. Isabelle Vougny paints to build and create in harmony with nature and its deep forces to transmit them to those who, by looking at her paintings, are in turn built in an energetic and soothing harmony. Isabelle Vougny's works are part of numerous art collections in France, Europe and in the United States.
The series "

The Clapotis

" by Isabelle Vougny
A few steps on water. Beyond the shore, the life of the pontoons! Space of freedom and aquatic enthusiasm.
Joyful agitation of lapping.
The series "

Vegetal

" by Isabelle Vougny
The vegetal shelters a world where life spins and sneaks, guesses and imagines itself. It is a universe of intense and simple exchanges, an ecosystem champion of resilience, expert in conviviality. Joyfully discreet, the vegetal is at the center of life.
The series "

Mineral

" by Isabelle Vougny
Cosmic consciousness, anchoring of body and mind, authentic power of breath, the mineral speaks to us of eternity. It connects us to the deepest parts of ourselves and to the joy of being, quite simply.
---
To learn more about Isabelle Vougny, you can visit her virtual exhibition and her social media:
---