Art Trope Gallery features Painter Tanya Angelova in a dedicated article!
We are pleased to present our painter Tanya Angelova :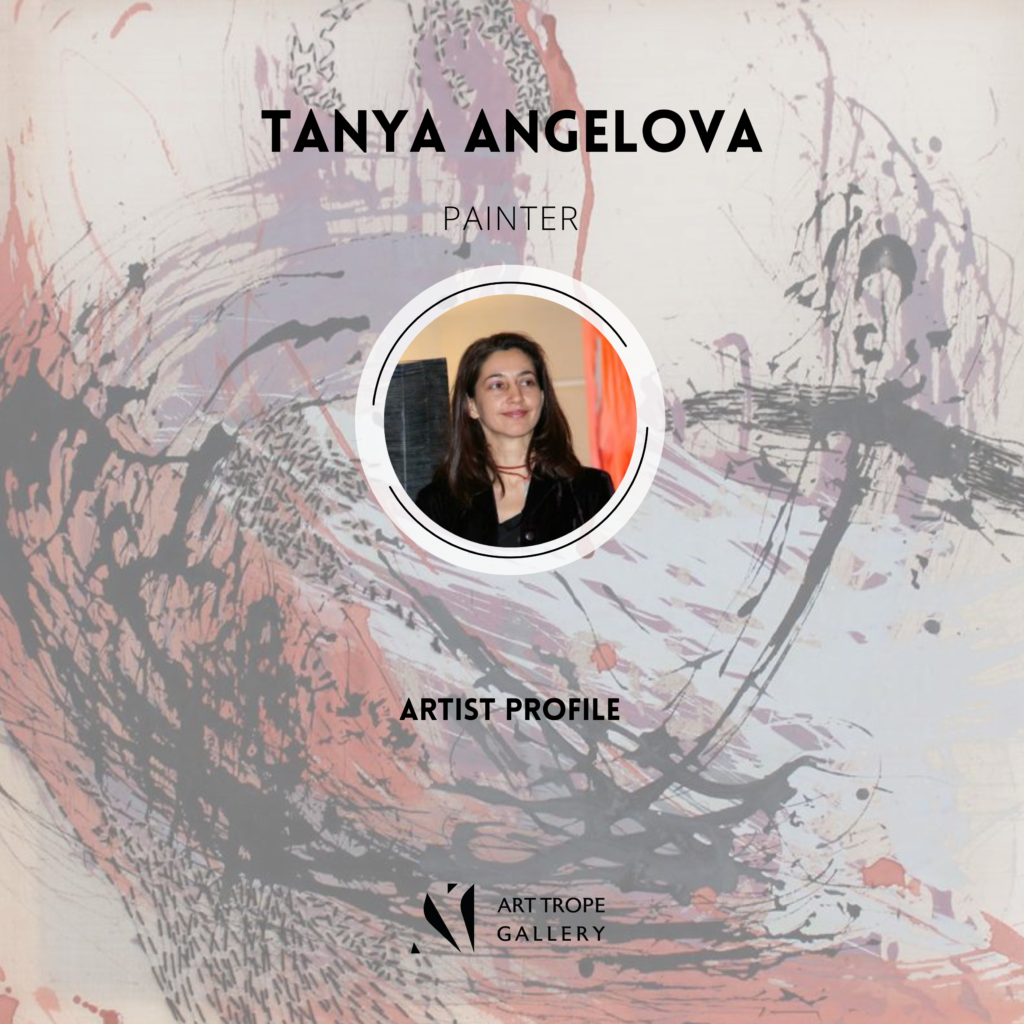 Originally from Bulgaria, the painter Tanya Angelova studied at the Academy of Fine Arts in Sofia, which led to a residency at the Cité Internationale des Arts in Paris, her adopted city.
Tanya Angelova implements mixed media as well as stitching in her pictorial work. Her works, which can be defined as minimalist, are part of numerous international public and private collections.
The key notion of Tanya Angelova's plastic research focuses on the trace. For the painter, it represents a memory, like the remains of moments we lived, places we visited, people we met, and so on.
Within her work, Tanya Angelova interprets this drawn line as a chromatic element or a plastic fragment. Her works accentuate the inner experience of a past world by embracing a composition wavering from abstract to figurative elements and linking matter to memories.
"In creation, I am inspired by the desire to transform, confront and mix fabrics and materials. I sew the canvas to enhance my presence, a gesture of personal emotion."
Tanya Angelova questions the linearity excluding the representation of recognizable forms and thus highlights that each entity in the world has its own way of occupying or observing it.
This pictorial work is based on the material as its leading thread. I chose felt stretched on a frame as a support for its ecologic footprint since it is composed of different fabric wastes but also for its consistent grey color.
I was able to create my own felts in a factory by adding raw materials such as threads and/or balls of wool to create the desired rhythms and graphics. Then thanks to acrylic paint, I coat some areas based on the desired compositions carried by the up and down strokes. The trace is the key notion of my research for this series.
Each one is like a drawn line, a stroke, a fragment of our memories, creating patterns, scenarios, the remains of moments we lived, places we visited, people we met, and so on.
The series "

Black and Ten

" by Tanya Angelova
This series entitled "Black and Ten", inspired by Julio Cortázar's poem "Ten and Black", highlights my research into the expressive possibilities of the color black. The abstract is my universe, my universal language. So is the material. The raw greige silk's transparency allows me to question the light becoming a key factor in this series. The paint's gestures combine harmoniously with the embroidery and the cotton thread to highlight the part played by black in relation to the other colors.
This choice of materials (silk, paint, thread) pushes me into thinking about the effects of light on some colors having an incidence in the abstract composition of each work to create. My pictorial research for this series compels me to use a repetition process while integrating my paradigms, my experiences and my inspirations.
---
To learn more about Tanya Angelova, you can visit her virtual exhibition and follow her on her social media:
---