THE NEWSPAPERS LE TÉLÉGRAMME AND LE POHER PUBLISH ARTICLES ON ARNAUD RINUCCINI'S "PARALLELS" PHOTOGRAPHIC SERIES
---
---
Transcription of the article by LE POHER
---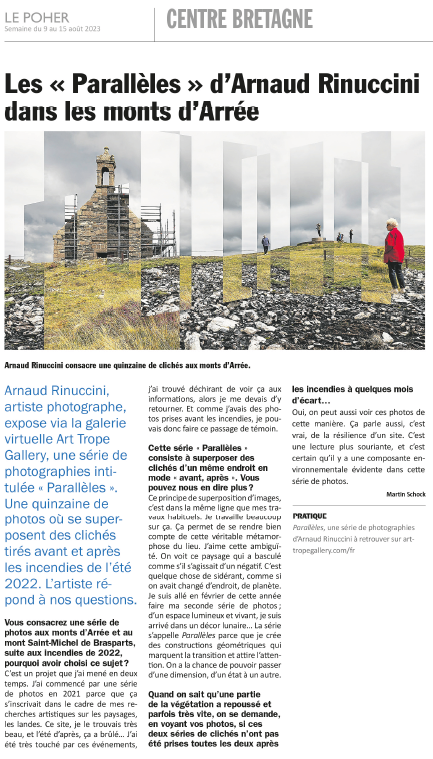 ---
« Parallels » by Arnaud Rinuccini at the Monts d'Arrée
---
Photographer Arnaud Rinuccini is exhibiting a series of photographs entitled "Parallels" with Art Trope Gallery in a dedicated Virtual Gallery. Fifteen compositions of overlapping shots taken before and after the fires of summer 2022. We asked the artist a few questions.
You're dedicating a series of photos to the Monts d'Arrée and Mont Saint-Michel in Brasparts, following the fires of 2022. What made you choose this subject?
It's a project I carried out in two stages. I started with a series of photos in 2021, as part of my artistic research into landscapes and moors. I thought the site was beautiful, but the following summer it burned down… I was deeply moved by these events, and it was heartbreaking to watch it on the news, so I had to go back. And as I had photos taken before the fires, I could then testify of this transition.
This "Parallels" series features overlapping shots of the same location in a "before, after" mode. Can you tell us more about it?
This approach of overlapping images is in line with my usual work. I work a lot on that. It gives a good idea of the real metamorphosis of the place. I like this ambiguity. We see this landscape as if it were a photographic negative. It's staggering, as if we've moved to another place, another planet. Last February, I went to make my second series of photos; from a bright, lively space, I landed in a lunar setting…The series is called Parallels because I create geometric constructions that define transitions and draw attention. We're fortunate enough to be able to move from one dimension, one state, to another.
Considering that some of the vegetation has grown back, sometimes very quickly, you have to wonder if these two sets of photos weren't taken a few months apart after the fires…
Yes, these photos can also be viewed this way. It's also about the resilience of a site. It's a more cheerful reading, and there is clearly an environmental dimension to this series of photos.
Martin SCHOCK
---
---
---
Transcription of the article by Le Télégramme
---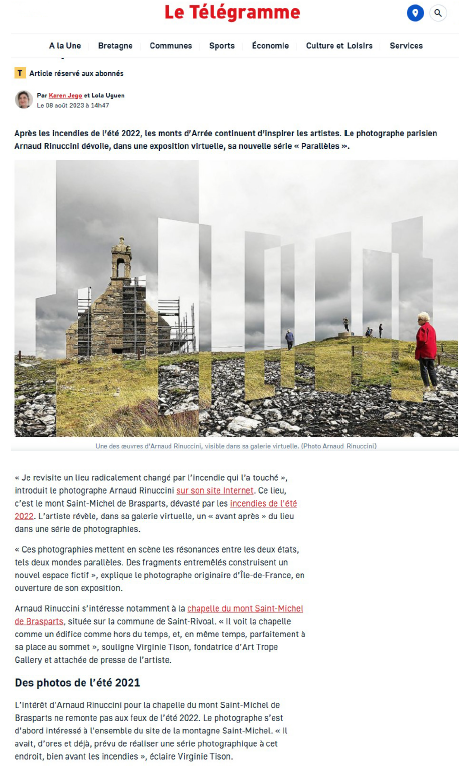 ---
The Monts d'Arrée still inspire artists after the fires of summer 2022.
Parisian photographer Arnaud Rinuccini unveils his new "Parallels" series in a Virtual Exhibition.
---
"I'm revisiting a place radically changed by the Fire that destroyed it", starts Photographer Arnaud Rinuccini on his website. This site is the Mont Saint-Michel in Brasparts, devastated by the fires in the summer of 2022. In his Virtual Gallery, the Artist shows a "before and after" of the site in a series of photographs.
" Like two parallel worlds, these photographs emphasize the similarities between the two states. The intertwined fragments establish a fresh, imaginary space," clarifies the Photographer from the Île-de-France region in the exhibition's introduction.
Arnaud Rinuccini is particularly interested in the Mont Saint-Michel chapel located in Brasparts within the St. Rivoal municipality. "He views the chapel as a timeless structure, yet perfectly situated at the top," highlights Virginie Tison, the founder and curator of Art Trope Gallery.
---
---
Pictures from summer 2021
Arnaud Rinuccini's fascination with Mont Saint-Michel chapel in Brasparts didn't begin with the wildfires of summer 2022. The photographer first focused on the entire site of Mont Saint-Michel. "He had already planned on producing a photographic series there well before the fires," Virginie Tison explains.
Arnaud Rinuccini will produce a first large number of images in the summer of 2021. "The artist thought he would be able to return to take more photographs during the summer of 2022, when he learned that the fire was ravaging everything," continues his press agent. "Discovering the aerial views of the chapel and its surroundings on the news was a real heartbreaker," she says.
A few months later, in February 2023, Arnaud Rinuccini decided to return.The next goal? "To highlight the extent of the disaster". To achieve this, the artist superimposed various images "of the same location captured pre and post the fire," as clarified by Virginie Tison.
"He's been touring Brittany since childhood".
In fact, Arnaud Rinuccini is used to composing his images through overlapping. This is one of the specific skills of his Art series. Arnaud Rinuccini enjoys reimagining "landscapes that are not a faithful reflection of past reality but rather a memory at work, creating something beyond what is visible," as he notes on his website.
The photographer was introduced to photography in the United States, before studying at the École Nationale Supérieure Louis-Lumière in Saint-Denis, near Paris.
Today, he still lives in the Île-de-France region. "But he's been touring Brittany since childhood," points out his press agent. "He often visits for vacations or to gather personal images for his projects," she adds. The images of Mont Saint-Michel in Brasparts now belong to his artistic collection.
By Karen Jego et Lola Uguen – August 08, 2023
---
---