Interview on Forbes France: "Virginie Tison, Entrepreneur dedicated to Artists and Art"
Virginie Tison is the founder and President of Art-Trope, an opportunity and career booster dedicated to fine artists and collectors worldwide. As a former painter and investor relations manager, she now knows how to bring sustainable and innovative solutions to the international art market. Her ambition? To bring artists peace of mind to create and allow collectors to value the works they have passionately chosen.
What inspired you to become an entrepreneur?
"When I was a painter between Paris and New York, I had to face the same issues any artist faces emerging in the international art market. I completely switched my life when I realized that in spite of all, friends who had exhibited in museums and major galleries found themselves off the market in the end. So, faced with the uncertainty of artistic careers, collectors are increasingly reluctant to take the risk of investing at a loss. Besides, I noticed that some of them occasionally inherit works purchased by their families and whose value has dropped considerably. Yet, each work of art contains a part of its creator's soul. Bringing sustainable solutions to artists and collectors worldwide has now become my life's mission. As an obvious choice, I became an entrepreneur in order to implement all the required development tools for this community.
How was Art-Trope born? What was the trigger?
"It is not acceptable that artists who have achieved a solid international renown and are represented in major collections end up being invisible on the art market. It is also very unfair to their collectors who see the value of their artworks decline over time. As a "new generation" art agency, Art-Trope supports fine artists on a long-term basis with services tailored to their needs. It is an efficient system to tackle the uncertainty of their careers and, at the same time, the devaluation of collectors' works. The name Art-Trope is significant because a "trope" is a figure of speech that enhances the meaning of a word or an idiom. Art-Trope lights-up the international art marketplace with solutions to the confusion it meets."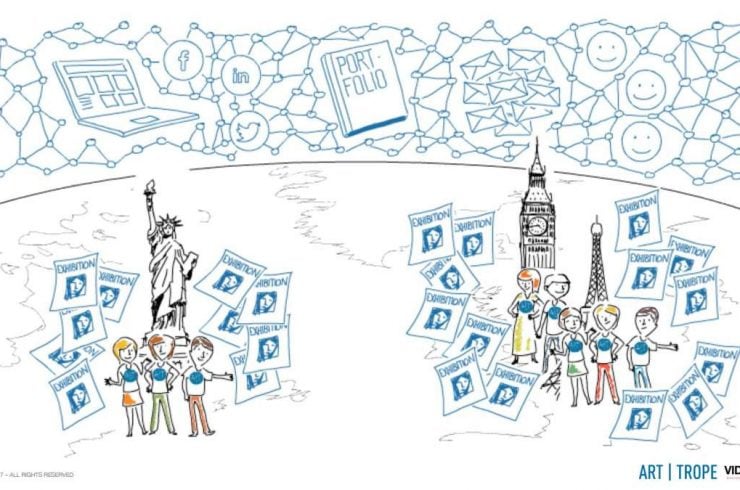 What were your challenges?
"This market is quite opaque and hard to access. To get a 360 degree view of all its actors, I carried out 4 years of research and experimentation in New York and Paris, with galleries, as well as with artists and collectors. As a result of these efforts, systems and tools have been created to provide solutions. The Banque Cantonale de Genève ( BCGE) then represented Art-Trope for 1 year. It was a beautiful success. But the world of entrepreneurship is still very male-dominated, which means that women entrepreneurs need to be more empowered. This is why I decided to acquire skills in corporate and shareholder management with 4 years of professional experience in Investor Relations with major international groups. I was then able to strengthen my management expertise, but above all to master skills that are precious to succeed in this market and indeed, to win the trust of our investors. Furthermore, a recent study by Bank of America's US Trust branch shows that more and more women are becoming collectors and engaging in this market.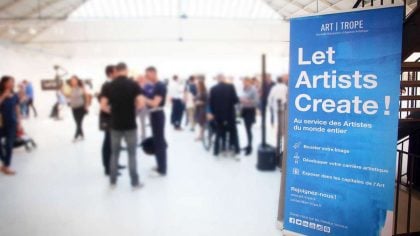 What is your pride today?
"Art-Trope is attractive to both artists and collectors. Since September 2017 and in less than one year, we have had nearly 35,000 unique visits to our website. We are also delighted with our INTERSECTION exhibition held in June 2018 at the Espace Commines in Paris with ten of our artists, and over 700 visits in 3 days. The Réunion des Musées Nationaux -(Grand Palais) has also relayed the exhibition, which highlights the quality of our artists and our scenography. Shortly after the exhibition, we also had the great pleasure to be selected to join the cultural start-up incubator Creatis, a residence for culture and media entrepreneurs in Paris. None of this would have been possible without the hard work of Art-Trope's partners and collaborators! I am proud of all the steps we have taken together: I see that our passion and determination remain intact."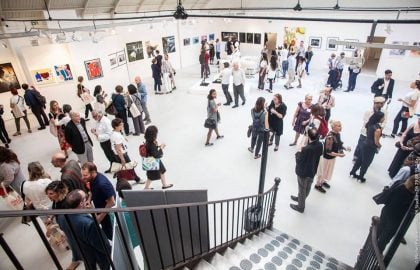 What excites you as an entrepreneur?
" All my actions have this same goal: restoring the balance between artists and collectors to allow the former to create more and the latter to collect with their heart. The most important thing for me is to develop technological and innovative solutions to achieve my goals. Art is a fantastic medium for dialogue between cultures and beings. Allowing it to grow in a dynamic and fair system is also a way to solve deep social crises such as the artist's isolation. To me, creating innovative systems to contribute to a better world is the very definition of entrepreneurship."
Which energy empowers you the most?
"It is our artist and collector clients that give me energy on a daily basis and most of all strengthen me in my life decisions. Art-Trope and its team make sure that each one of its actions has a real impact. At the INTERSECTION exhibition, one of the artists, the Swiss painter Ueli Kühni, said something that touched us all: "This is the first great thing that has happened to me in my life with my paintings."
" Supporting artists and collectors to take them further is our "raison d'être". We have this unique and same motto since the beginning of this adventure: "Let Artists Create!"