Forbes magazine releases an interview with Virginie Tison : Art Is first of all a Journey
article from September 20, 2020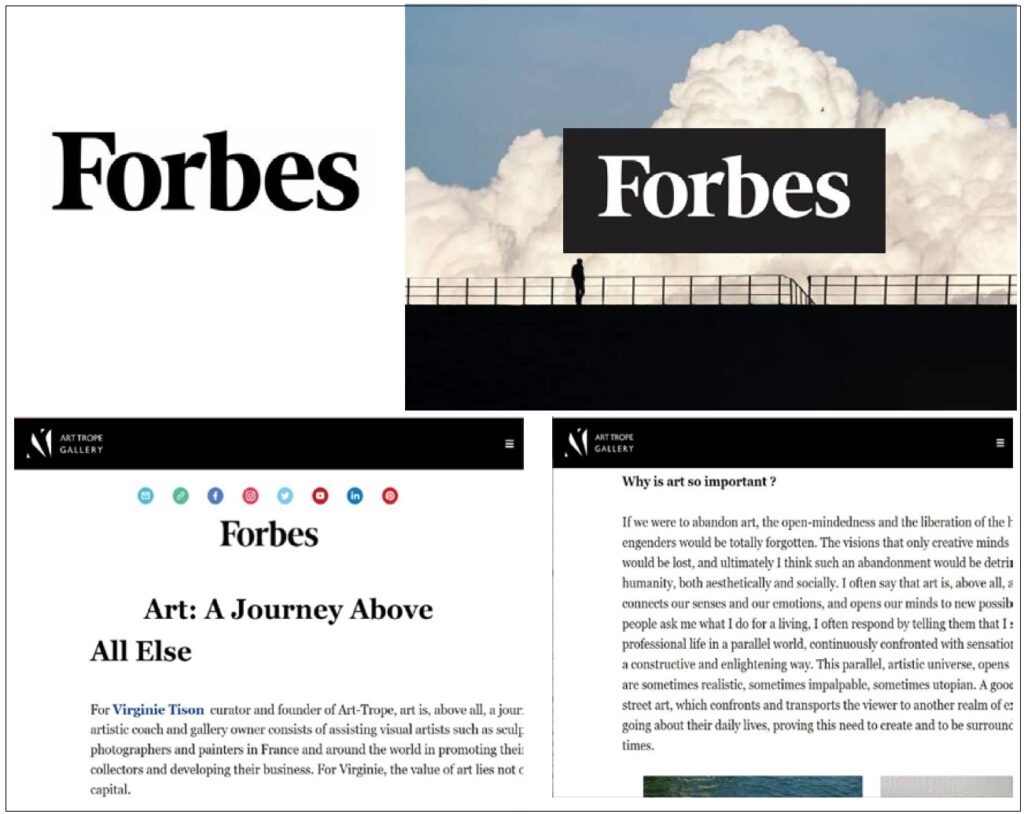 ---
To Art-Trope founder and curator Virginie Tison, Art is first of all a journey. Artistic Coach and Gallerist she backs-up Fine-Artists as sculptors, photographers or painters, on the long run, to promote their creations to collectors and develop their careers internationally and locally. For Virginie the value of Art is not limited to finances.
How does Beauty play a role in our lives?
To me Beauty is essential to our lives : we 're always looking for it. Anything we use in our daily life, such as our clothes, furnitures or items are all designed by creatives. Art has long been linked to beauty.
Art has long been bound up with beauty. However, its primary focus is not a pure aesthetic research, but rather the shaping of a message the artist wants to convey the world. As a mirror he offers through his technical skills as well as his emotions, his perceptions or even his positioning, and of course his creativity. So art does not aim to be beautiful, but to be first of all authentic. Furthermore, the sense of beauty is very personal: for some, a work of art can be perceived as a major achievement, for others as an attempt.
What makes art so important?
If we were to give up on art, on this open mind and sensory awareness it brings, on these visions that only creators can give us, I think we would be significantly declining, both aesthetically and humanly. I often say art is first of all a journey connecting our senses and our emotions, but also connecting us to a world of opportunities. When asked what I do for a living, I frequently reply that I live in an alternative world where senses and cultures meet in a cross-cultural and fruitful manner, and open up new perspectives that are either realistic, unreal, or completely utopic. Street Art is a pecfect proof/illustration of this necessity to create and be constantly surrounded by art.
Art Is first of all a Journey connecting our senses and our emotions, but also connecting usto a world of opportunities.
Why some artworks are more popular than others?
In my opinion, admiration for a specific artwork is based on the quality of its artistic process, but mostly on its innovative potential. Innovation means that the work has never been done before, referred to as "original" although it is included in art history continuity. Creating such works at the start of an artist's career is not an easy task. At the beginning, he needs to search, to face himself in order to reach the world. From there on, the artist will create works that stand out from the crowd. My job as an art coach and gallerist is to provide him with the best possible support over the long term so that his message is accurately conveyed.
Art is first of all a discovery: when a collector returns after a purchase and explains to me that he is constantly rediscovering it, I feel proud to have fulfilled my mission as an advisor/art consultant.
What determines an artwork's value ?
If Leonardo da Vinci's work had not been discovered and if the Mona Lisa had not been exhibited in the prestigious Louvre, it is likely that another work, by another artist, would have replaced it. A work of art gains meaning and value only through its detailed description, analysis, documentation and exposure. This is how, following several years of work with our artists, I found it essential to open a gallery.
Regarding the market value, I can see two types of works. If a collector wishes to invest, he will purchase a work of art on the second market, where the value is determined by the artist's name and its quotation, which is linked to auction sales, but also to the context, including rarity, technique, and the artist's other completed works. If he wishes to discover emerging artists, he will instead purchase a work from the first market, where the value is defined by previous sales and, of course, by the artist's aesthetic progression if he is not really quoted yet.
How to democratize access to art?
Thanks the online art market, I strongly believe that art has now become more accessible.
It is not unusual to find paintings and/or photographs displayed on people's walls. My concern is that there is little guidance and no opportunity for a pedagogical approach that would explain the artist's work and why this work is more meaningful to them than others. This special relationship requires a physical exchange. A gallery is the perfect venue for such an exchange providing a tailormade advice .
How does Art-Trope contribute to it?
Art-Trope's positioning is quite simple: we support our artists over the long term and we show their work when they are ready. It is crucial to spend time building an artist's career and to exhibit at the right time according to his work's maturity. The selection is based on the professional expertise of a multi disciplinary jury of renowned personalities. It is quite drastic: out of 500 applications and more, we finally selected only a few twenty. Coaching artists is a genuine privilege for a gallerist, as it enables her to watch them progress in their research and pass on the fundamentals that are crucial to the development of their careers, even more so in the context of technological tools that are not always easy to master.
When speaking about their art and their works, I often refer to it as a journey. The gallery's exhibitions are an invitation to travel to the heart of the represented artists' universe. This way, I allow newcomers to start a collection with confidence or experienced collectors to discover new artistic worlds and have the best experience in buying art. Both artists and collectors can rely on a caring and responsive audience to help them navigate their way through the gallery.
Article by Dominique Barreau – Forbes