Art Trope Gallery presents Laurent ElieBadessi, in partnership with Polka Galerie,From the 2nd to the 28th of November
Selection of 27 photographs from his new book "Age of Innocence – Children & Guns in the USA" (Images Plurielles editions)

Vernissage in the presence of the Artist on Saturday 07 November from 2:00 p.m. to 7:00 p.m.

Book signings on Sunday 08 November from 1:00 to 6:00 pm.
Laurent Elie Badessi a French-American photographer presents a selection of 27 of his pictures at Art Trope Gallery, in partnership with Polka Gallery, to celebrate the publication of his new book "Age of Innocence" (Image Plurielles editions). He was able to explore and appreciate photography from an early age, coming from a family of three generations of photographers.
He has received several awards, including a grant from the Ministry of Culture for his Paris exhibition, Métamorphoses. A large format from his Age of Innocence series was recently exhibited at the National Portrait Gallery in London for the prestigious Taylor Wessing Prize.
His photographs are part of many major public and private collections such as the Whitney Museum, The Elysée Museum in Lausanne, The Bibliothèque Nationale de France, The Gilman Collection, The Sir Elton John Collection …
"…In order to shed light on this ambivalent relationship between American youth and guns, Laurent Elie Badessi chooses to photograph children with a pistol or rifle in their hand, whether they are used to handle firearms or not. He thus explores the emotional and sociological relationship that binds a child and his weapon.
When Laurent Elie Badessi moved to Texas in the 1990s, he was confronted with the world of guns. However, he retains the reassuring aspect of guns for those who own them., the latter also pointing out the vital importance of being trained to handle the weapon properly and with care. The artist advocates the urgency of creating a peaceful and healthy environment, whatever our views on the subject… From pleasure to beauty, safety to protection, their answers – which we can read next to each print – are diverse and give us a better understanding of this true gun culture that is inextricably part of American history."
Translated from the essay by Nicolas Mazet and Kate Davis, House of Art and History Gallifet, Aix-en-Provence.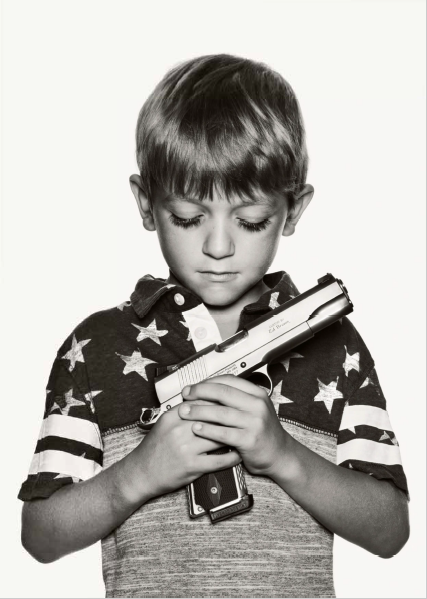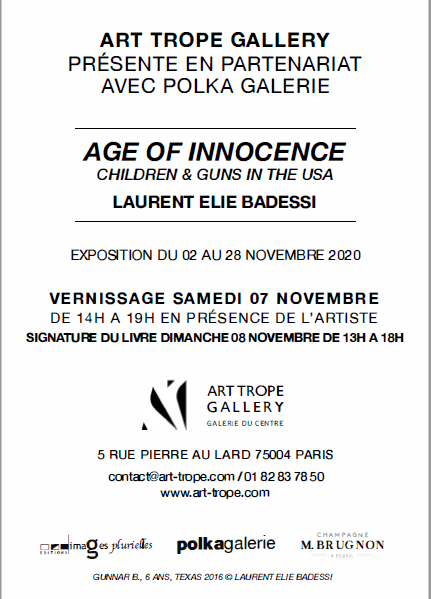 ---
For more information, please contact us to receive the Press Kit and copyright-free visuals of the exhibition.