It's starting today! See you at the Volta Basel at booth D05 from September 20th to 26th, 2021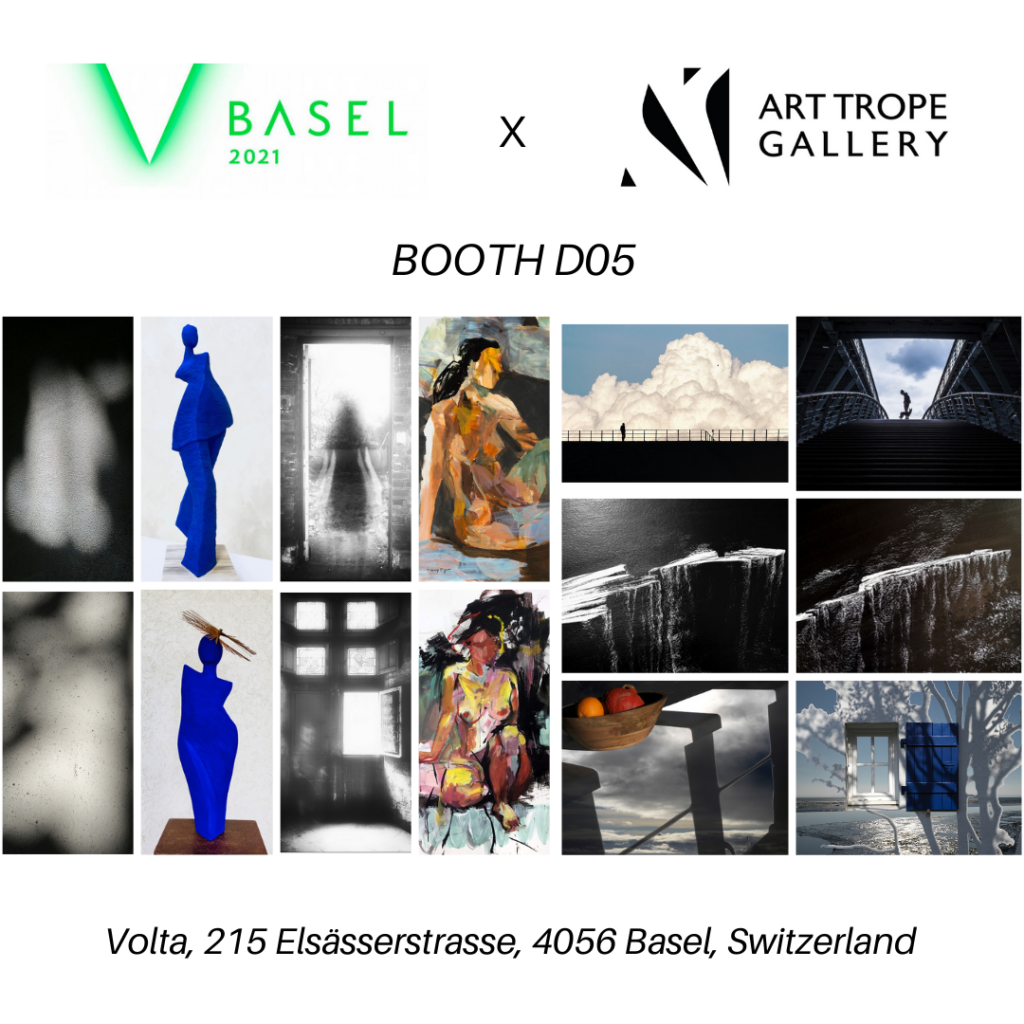 We are delighted to announce the participation of the Art Trope Gallery to the 2021 edition of the contemporary art fair VOLTA Basel in Switzerland, located at 215 Elsässerstrasse next to the train station.
From September 20th-26th, 2021, we will present 25 works from 7 of our Artists at the Booth D05 with :

Antoine Buttafoghi

,
Photographer ;

Bruno Palisson

,

Photographer ;

Harry Ergott

,

Painter ;

Florence Sartori

,

Sculptor…
---
Antoine Buttafoghi's photographs are composed around humans, connected or not with their environment, in all their diversity. His photographic series Loneliness(es) will be featured at the Fair. By necessity, choice or bad luck… loneliness can take many forms. Whether it comes from punishment or the contrary. From a reward, it can go along with freedom, but does not hate disarray!
It is self-seeking or fleeing from the other, accepted and light or undergone and overwhelming. Intimate confusion or subtle balance! Loneliness as a fruitful the first start of this experience, an inner journey, a lucid quest and which allows to generate a different relationship upon itself and to the world. Loneliness as an art of living that allows you to turn to the essential, connected to yourself, to the sacred, to the eternal. A wandering in the depths of being, a secret odyssey, a destination towards oneself… Loneliness as a last exile, a last salvation, an absolute silence. Alone in their environment, these characters isolated in their space or in their dreams, find themselves suspended in time, no doubt in search of somewhere else. They impose their scale on the plans, a life proper to the lines and a verticality too! And they would no doubt be surprised at the importance of their visual weights in the geometric balance of the masses.
---
Through this series "In our intimate moments", Bruno Palisson wanted to freeze the present by relying on its emotional dimension. Indeed, the relationship to time, the wounds of the past, illusions about the future, the fears that each situation can resurface have given rise to the Artist's desire to share the photographed hope. Our present moments so difficult to live, to feel, would they be only a dream, an unconscious force which, freed from the control of reason, and cannot therefore by definition be only a surrealistic expression?
---
Harry Ergott's painting research on female Nudes is a study of self-control resisting the urge of brash escape, the balance between absolute control and raw emotion.
Some words of the Artist about his series named "Nudes": "I've been drawing and painting nudes from living models for many years. All these years of practice have allowed me to gain an excellent basis on which to interact with the subject, which sometimes imposes itself and sometimes withdraws."
---
The sculptor Florence Sartori places the Woman at the center of her aesthetic universe. Her approach, resolutely turned towards life, arouses emotion by emphasizing the curvatures of bodies. Her series Woman, Singular and Plural, Dynamic and Ultramarine focuse on different timeless female figures and presents the Woman's body through its most universal aspects: curves and voluptuousness, flexibility and sensuality, balance in space, tensing of the body, suspended movement, swaying hips or aerial arabesque.
---