Meet Bruno Palisson today at 6pm during the 3rd Festival of Surrealist Photography of Fréjus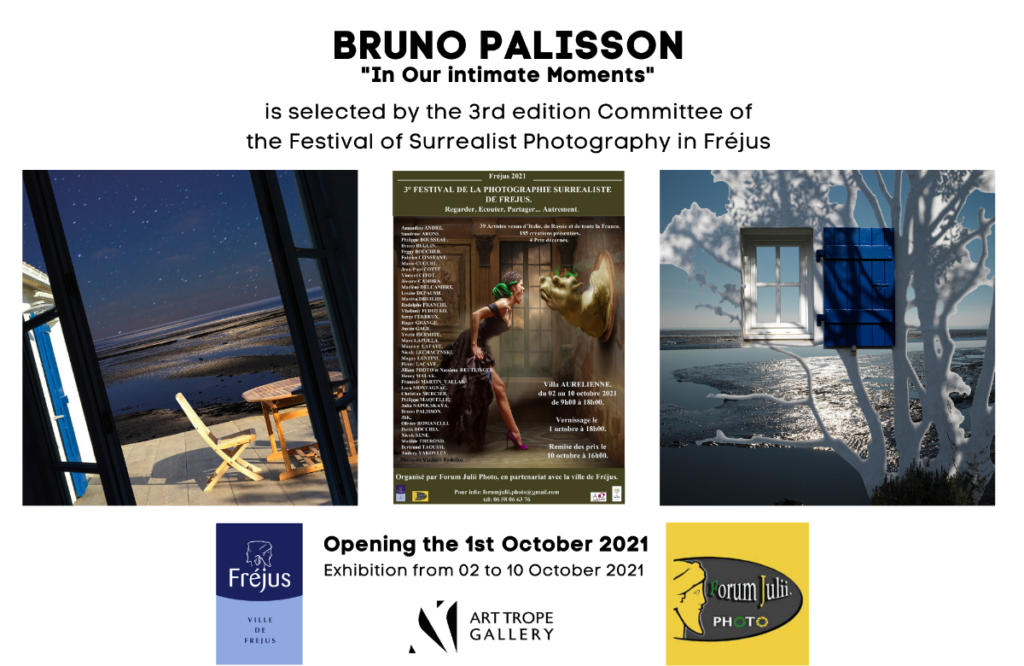 Art Trope Gallery is pleased to announce that Artist Photographer Bruno Palisson has been selected by the 3rd Festival of Surrealist Photography of Fréjus which will be held from Saturday, October 2nd to Sunday, October 10th, 2021, at the Villa Aurelienne, 85 avenue du Général Calliès à Fréjus (83600).
This festival is organized by Forum Julii Photo in partnership with the city of Fréjus. It aims to present creative photography to the public, in all its diversity, and to organise meetings with international artists.
This year, the "Forum Julii Photo" selection Committee met on Saturday 29th May 2021 and have selected 39 international Artists, including the work of our photographer Bruno Palisson with his photographic series entitled "In Our Intimate Moments".
Thus, among the 185 photographic works exhibited, you will be able to find those of Bruno Palisson already visible in his virtual exhibition: https://bit.ly/3sGY5CY.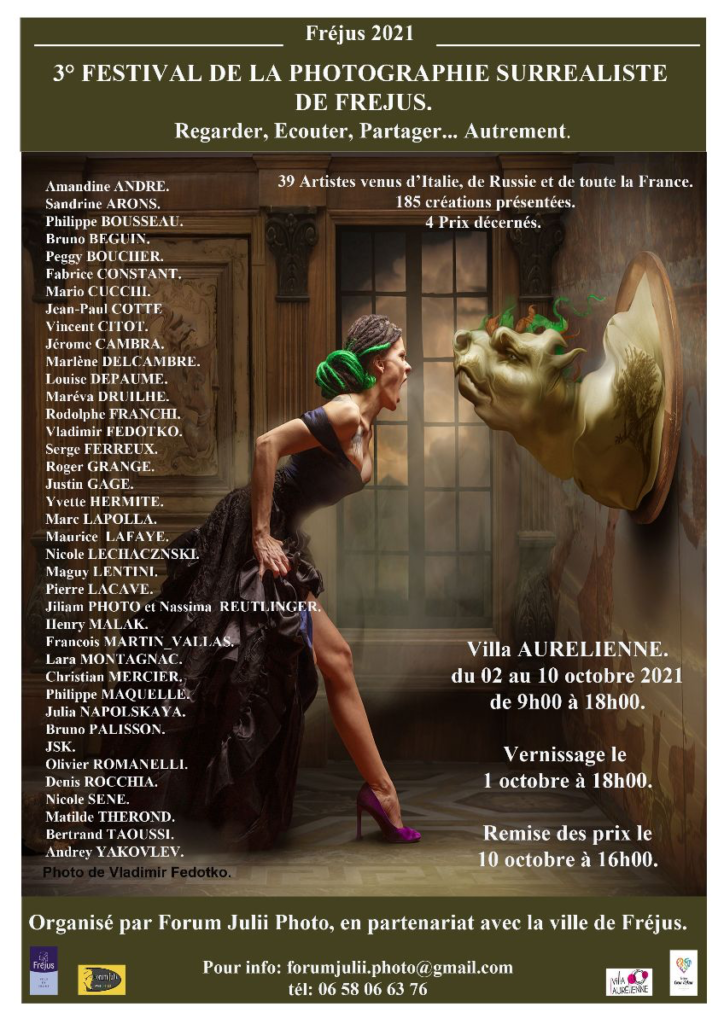 In his series "In Our Intimate Moments", Bruno Palisson's objective was to freeze time in order to capture its emotional dimension. Indeed, our relationship with time, the wounds of our past, the illusions of our future, the fears that each situation can resurrect have made him want to share the hope that these photographs represent.
Bruno Palisson answers different questions in order to underline his message through his works:
– Could our present moments, so difficult to live, to feel, be only a dream, an unconscious force which, freed from the control of reason, can therefore by definition only be a surreal expression? "The very act of taking my coffee from a bowl made by my daughter transports me. Concentrating on finding a piece of fruit jam at the bottom of the coffee or listening to my wife crunch her bread are pleasures that make me savour the delight of existence."
– Do we have difficulty situating ourselves in time? "Universal time is both a notion and a very particular invention. During a lunch in our garden in the sun, I was asked where the lizards hid in winter. I loved this question. Beyond these essential moments of simple life with one's family, it is the sole reality of the moment that counts and all that existed around it had no place, nothing before and nothing after, like a sentence suspended in the void. I like the idea that we are 99.99% empty, as any atom can be. That's how everything is empty, matter, necessarily reality, and even more so time… "
– What about the past? "The past can haunt us as we carry our wounds around like a toxic refuge. Everyone does the best they can and learns to deal with it. Our ego by projection permanently locks us in the trap of the illusions of the future, making us easily forget that the only reality, if it exists, is the present moment. I remember the moment when time was suspended. The emptiness and the silence formed like parentheses of life even as the wind and the birds reminded me of its presence. It was at that moment that I understood that life is a privilege. Then, one day, I set my watch. A routine set in, and then I forgot."
– What space do we leave for our present? Through what prism do we look at life? "This series is a pictorial wish, a photographed hope for the present."
---
It was with a 'Goldy' Box camera, a gift from his father, that Bruno Palisson took his first photographs at the age of 10. Throughout his adolescence, he asserted himself through this medium, setting up a freelance practice at the age of 17. Three years later he began a professional career as an architectural photographer, working for agencies and magazines. At the same time, he was studying for a degree in architecture and in 1994, with his colleague Jean-Luc Calligaro, he founded the architecture agency Atelier PO & PO in Paris. In 1997 he represented the company Polaroïd in France for the brand's 50th anniversary and in 1999, he co-directed an artistic campaign for the candy brand Cachous Lajaunie as part of a collective.
Bruno Palisson, photographer and architect, has exhibited at a variety of prestigious art fairs. In 2019 he exhibited at the Voies Off des Rencontres Internationales d'Arles and was published in specialised magazines such as L'Œil de la Photographie, Fisheye and Chroniques d'Architecture. In 2020 the artist participated in the Festival les Focales du Pays d'Auge in Honfleur, in a collective exhibition at the gallery La Fabrique Contemporaine in Paris and was selected by the magazine Openeye for a virtual exhibition in collaboration with the Laboratoire Picto. In 2021, Bruno Palisson exhibited at the Art Trope Gallery, at Noirmoutier-en-l'Île, at Les Rencontres Internationales de la Photographie d'Arles et at the Volta Art Fair Basel in Switzerland.
Bruno Palisson is represented by Art Trope Gallery.
---