Réponses Photo Magazine published an article about Bruno Palisson's photographic series "The Way of the Salt Worker" !
On July 12th 2022, the french magazine Réponses Photo published an article dedicated to Bruno Palisson's series "The Way of the Salt Worker", who is represented by Art Trope Gallery.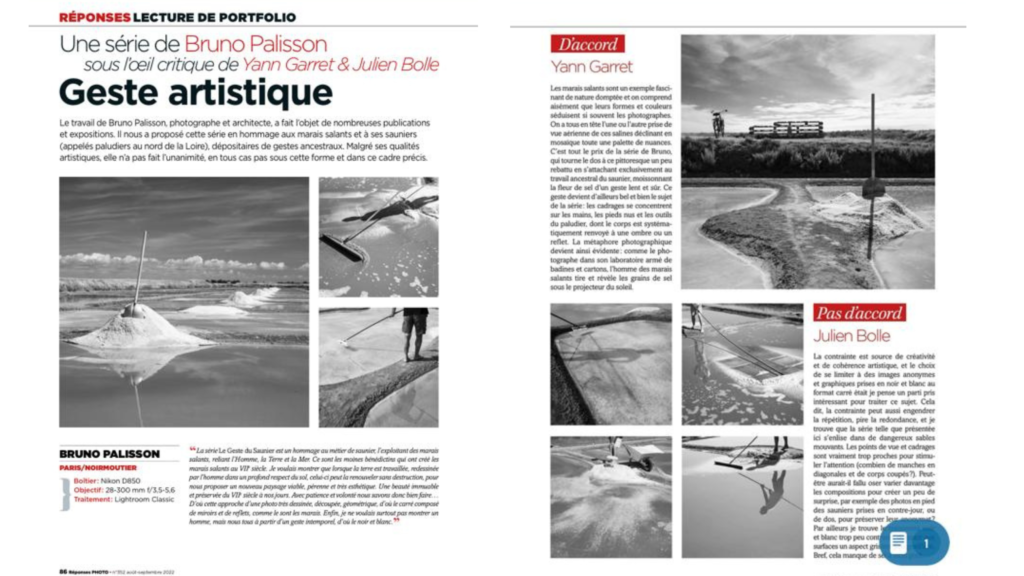 A series by Bruno Palisson under the critical review of Yann Garret and Julien Bolle
Artistic Gesture
The work of Bruno Palisson, Photographer and Architect, is frequently published and exhibited. He suggested this series, a tribute to the salt marshes and their salt workers (here sauniers but called paludiers in the north of the Loire in France), guardians of ancestral gestures. In spite of its artistic qualities, it was not unanimously approved, at least not in this form and in this particular context.
The series « The Way of the Salt Worker » is a tribute to the Art of the Salt Worker, the farmer of the salt marshes, connecting Man, Earth and Sea. The man with deep respect for the soil naturally and patiently pulls out the fruit of his work, with the same gesture since the XIV century.The salt marshes were created in the 7th century by Benedictine monks.I wanted to show that the land, when cultivated and transformed by people with a deep respect for the soil, can be renewed without destroying it, to offer us a new, sustainable and very aesthetic landscape.A preserved and unalterable beauty from the 7th century to the present day. With patience and willingness, we do know how to do it… This explains the concept of a sharply defined, cut-out, geometric photograph, resulting in a square of mirrors and reflections, just like the marshes.Lastly, I didn't want to show just one individual, but all of us through a timeless gesture, which is why I used black and white.
Agrees: Yann Garret
Salt marshes are a fascinating example of tamed nature, and it is easy to see why their shapes and colors so often appeal to photographers.We all have in mind some bird's eye view of these salt works with their mosaic of nuances.This is the value of Bruno's work, who turns his back on this overused picturesque by focusing entirely on the ancestral craft of the salt worker, harvesting the salt flower with a slow and safe hand. Moreover, this movement becomes the theme of the series: The images focus on the hands, bare feet, and tools of the salt worker, whose figure is always reflected as a shadow or a reflection.The photographic metaphor is clear as well: like the photographer in the darkroom, armed with props and cardboard, the salt marsh man draws and reveals the grains of salt in the sunlight.
Does not agree: Julien Bolle
Limits are a source of creativity and artistic coherence, and the choice to limit the images to anonymous graphics taken in a black and white square format was, I think, an interesting choice to deal with this subject. However, constraint can also lead to repetition, or worse, redundancy, and I find the series here stuck in dangerous quicksand.The angles and frames are really too close to attract attention (how many diagonal sleeves and cut-off bodies?). Perhaps, it would have been better to dare varying the compositions to add some surprise, such as full-length shots of the salt workers in backlight, or from their back to preserve anonymity. Moreover, I find the black and white very few contrasted, giving surfaces an unrewarding grayish aspect. In a nutshell, there is not enough salt to my taste…