Art Trope Gallery features Painter Klara Gunnlaugsdottir in a dedicated article!
---
We are pleased to present painter Klara Gunnlaugsdottir :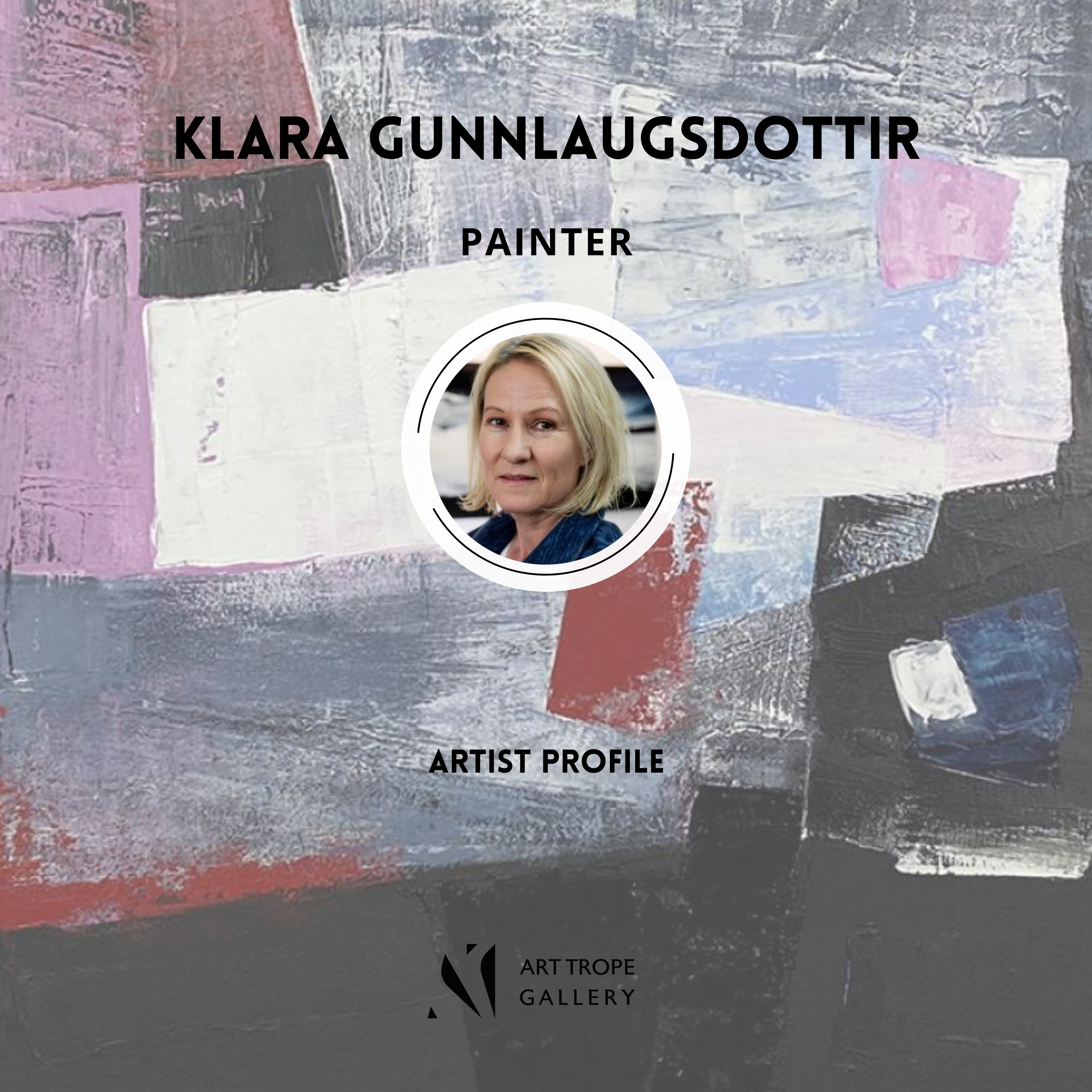 Apart from her studies in Political Science at the universities of Iceland and Trier in Germany, Klara has always been attracted to Art in general and painting in particular, a hobby she has practiced since her early childhood.
Klara Gunnlaugsdottir is an Icelandic painter who has been living in Brittany, France for many years. This is how she deepened her pictorial research and her technique to the point of making it her new professional activity since this change of life had as a consequence to stop her previous career.
The singularity of Klara Gunnlaugsdottir's painting is based on a contemporary abstract style often inspired by nature, in particular the landscapes of her native Iceland. Indeed, the Painter grew up in a small town near Reykjavik, surrounded by lava fields on one side and the Atlantic Ocean on the other.
During her career, Klara Gunnlaugsdottir has had several solo exhibitions and participated in various group exhibitions in France, England and Iceland. She joined Art Trope Gallery in 2022. Her paintings are in Private Collections in more than twenty countries on four continents.
Klara Gunnlaugsdottir suggests and reveals the invisible in her paintings.
Klara's abstract works are characterized by textures and reliefs, fluid and colorful gestures within compositions that reflect nature, especially the beautiful landscape of her native Iceland.
Klara Gunnlaugsdottir conveys the positive elements found in nature and emphasizes the movement, strength and contradictions of natural elements.
The series "

Icy Art

" by Klara Gunnlaugsdottir
"Icy Art" represents abstract paintings inspired by the Icelandic landscape and weather. I also denounce the climate change and the melting of the ice.
Textures and contrasts are harmonized in a movement of light and energy.
The series "

In the Air

" by Klara Gunnlaugsdottir
The works in this series are also inspired by nature, as most of my paintings are, with the difference that my approach is more sensory than visual.
The series "

Into the Light

" by Klara Gunnlaugsdottir
"Into the Light" is like a contrast to my previous pictorial research, as the works have less texture and a darker tone. It is on the theme of the work of Pierre Soulages, that I wished to approach the light in the darkness to bring out the beauty of the shades of black.
The series "

Black and More

" by Klara Gunnlaugsdottir
With reference to Pierre Soulages, I have explored in this series the oppositions revealed in the landscapes that nature generously has to offer.
---
To learn more about Klara Gunnlaugsdottir, you can visit her virtual exhibition and her social media:
---