Photographer Fabrice Constant joins Art Trope Gallery • Dedicated articles featuring our Artists are published • Bruno Palisson personal exhibition of "Equanimity" will be held in Noirmoutier from June 17th, 2023
---
• Photographer Fabrice Constant joins Art Trope Gallery
• Dedicated articles featuring our Artists are published
• Bruno Palisson personal exhibition of "Equanimity" will be held in Noirmoutier from June 17th, 2023
---
Art Trope Gallery is pleased to announce its collaboration with the Photographer Fabrice Constant
Fabrice Constant carries out his artistic research in nature. His photography captures the magical moments that surround us and highlights the metamorphoses occurring there day after day. Through his work, the Fine Art Photographer is a witness to the depths of life necessary to our existence.
Fabrice Constant, is a multi-disciplinary artist moving between photography and theater. He started in the photographic labs and learned how to print photographs before using this medium to create. A new standpoint in the artist's life and artistic universe is given by the discovery of a spiritual awakening. So Fabrice Constant introduces an intimate photography focused on our Natural surroundings. The study of matter underpins his vision. Fabrice Constant's works are selected by Festivals and are part of private collections in France.
---
Art Trope Gallery presents its Artists through dedicated articles
Virginie Tison founder and curator of Art Trope Gallery has been working since 2008 to develop solutions improving artist representation over the long term, in three steps:
1/ Art Coach to train and professionalize Artists,
2/ Art Trope Gallery to showcase and represent the Artists on a long term basis,
3/ Art Trope Agency to promote the talent of Artists worldwide.
Art Trope Gallery has for vocation to provide innovative long-term support to its artists through dedicated showcases, while ensuring their international visibility through targeted networks.
The gallery's strength lies in the strict selection of its Artists based on a mutual benevolent collaboration.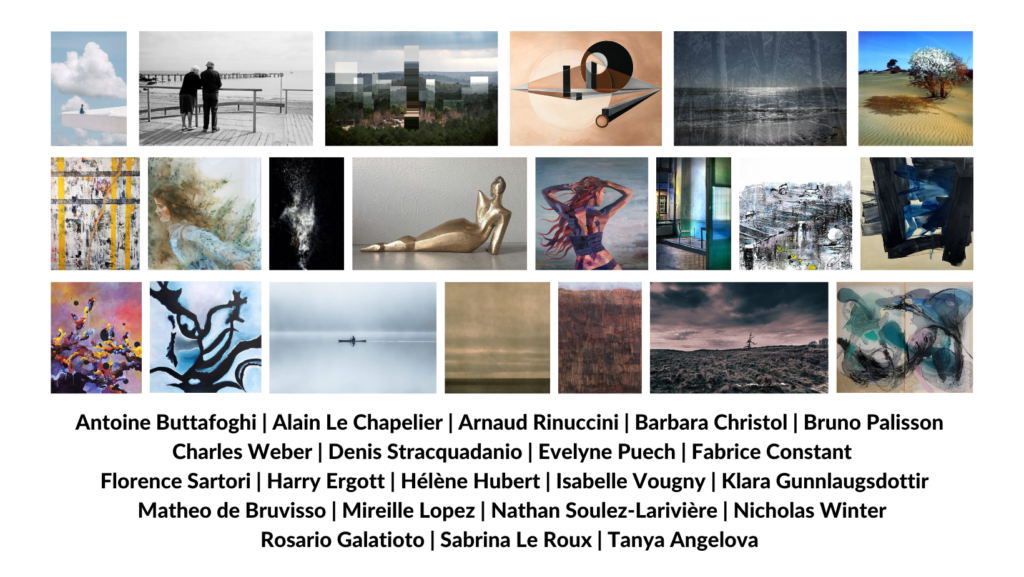 "I regard my partnership with the artists we represent as a "professional marriage" built and developed over time. That is why it is so important to share openly to find appropriate solutions, and develop their careers far beyond a gallery with one-off exhibitions. Given the current market, a regular gallery is no longer sufficient to develop and sustain an artist's career.
---
The personal exhibition of the photographic series "Equanimity" by Bruno Palisson will be held at the Château-musée de Noirmoutier from June 17th to September 17th, 2023
The series "Equanimity" consists of superimposed images of land and sea-scapes. The Artist uses materials, shapes and colors to question the essence of living. What inspires Bruno Palisson are the great questions of the "origin of life" and its mystery, as well as the structure of nature in its original form.
Discover 24 works of the series "Equanimity" by Bruno Palisson exhibited in the courtyard and moat of the Château-musée de Noirmoutier from June 17th to September 17th, 2023.
« What could be more banal around the age of 50 than trying to understand what is essential to our existence and taking a step back from the race we are leading within our society, and try to put this last stage of our existence into perspective. At the same time try to understand this distancing, this frightening but abstract crevice, hence the difficulty of apprehending it, which we continue to constantly enlarge with nature, until the break, which perhaps will bring us to our loss ?
I thus wished to get closer to the elements, the Earth, the Air, the Water and the Wood which are familiar to me and which however I do not look at enough. I observed, contemplated then meditated, I exposed myself, at least I coped without cheating, in order to become one with the moment and these elements. To be with them, to go to the essential, to the simplest, and to be as close as possible to our origins to perhaps be better reborn and perhaps for the first time, to live. It is this reunion with our origins, this nature, ourselves, that I wanted to share with you. »
We would like to thank our partners for their support in making this exhibition possible:
Listed as a Historical Monument, the Château de Noirmoutier-en-l'Île is an impressive fortress dating from the 12th century, and a remarkable heritage. The Noirmoutier castle-museum houses collections evoking the island of Noirmoutier and its history as "Mort du général D'Elbée" by Julien Le Blant, showing the execution of the soldier in front of the castle, in 1794.
A temporary exhibition is held every year.
For 70 years, Picto has been a reference for image professionals. Founded in 1950 by Pierre Gassmann, a humanist and friend of the great photographers of his time, Picto is a specialist in the graphic chain, combining traditional know-how with new technologies.
"Cián du Giorgi" is a little and precious winery located in the Cinque Terre National Park. As small as all the other wineries in the region, it is precious because it helps to preserve the delicate balance of the territory.
---
About : Art Trope Gallery, directed and curated by Virginie Tison, has for vocation to provide innovative long-term support to its artists through dedicated showcases, while ensuring their international visibility through targeted networks. The gallery stands out for its ability to lead visitors through a journey into the represented artists universe, be they painters, photographers or sculptors. Boosting opportunities and careers, Virginie Tison also founded Art Coach to train artists in positioning themselves in the art market by optimizing their visibility and their network, as well as the Art-Trope Agency to build and develop their international reputation over the long term.