Picto Magazine announces the solo exhibition "Equanimity" by Bruno Palisson from June 17th to September 17th 2023
An exhibition at the Château-Musée of Noirmoutier by photographer Bruno Palisson
April 27th, 2023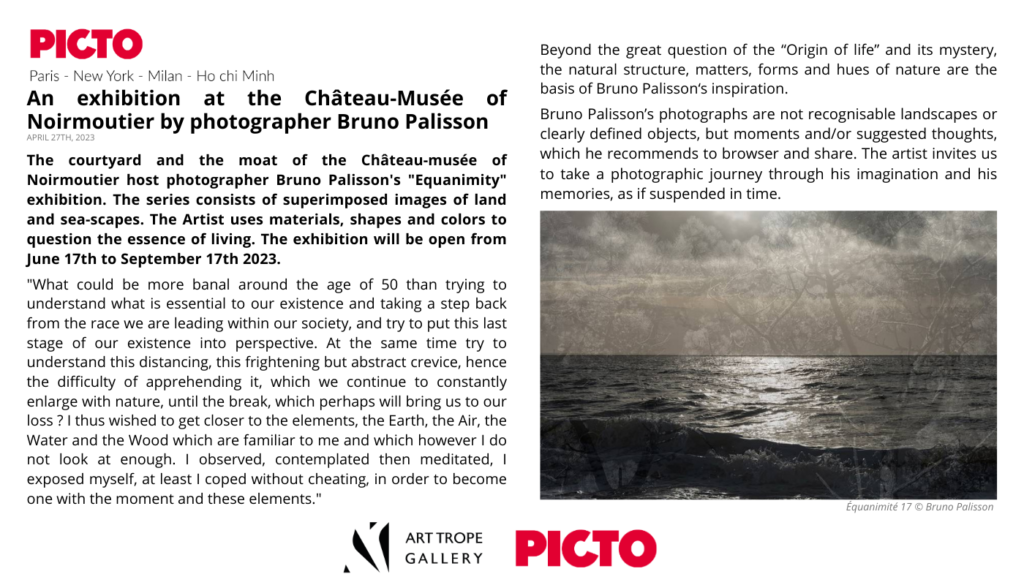 The courtyard and the moat of the

Château-musée of Noirmoutier

host photographer

Bruno Palisson

's "Equanimity" exhibition. The series consists of superimposed images of land and sea-scapes. The Artist uses materials, shapes and colors to question the essence of living. The exhibition will be open from June 17th to September 17th 2023.
Beyond the great question of the "Origin of life" and its mystery, the natural structure, matters, forms and hues of nature are the basis of Bruno Palisson's inspiration.
The subjects often impose themselves on the Photographer as evidence after a long time of coexistence, revealed by emotion, feelings, sensations… This is how his travel photographs are his own story and his occasionally dreamy thoughts. These are explorations of before, during and after. They are also doubts and hesitations, moments and paths that must be tried, attempted, since "as we reveal ourselves, we are never wrong".
The works are a means to transport the Artist's memory, and are in perpetual motion. Bruno Palisson tells a photographic story that he piles up and superimposes, in overlay or transparency as a life that unfolds, and piles up with intensity in this unspeakable mixture of past, present and future.
Bruno Palisson's photographs are not recognisable landscapes or clearly defined objects, but moments and/or suggested thoughts, which he recommends to browser and share. The artist invites us to take a photographic journey through his imagination and his memories, as if suspended in time.
"What could be more banal around the age of 50 than trying to understand what is essential to our existence and to take a step back from the race we are running in our society and try to put this last stage of our existence into perspective. At the same time try to understand this distancing, this frightening but abstract crevice, hence the difficulty of apprehending it, which we continue to expand with nature, until the break, which perhaps will bring us to our loss? I therefore wished to get closer to the elements, Earth, Air, Water and Wood, which are familiar to me but I don't look at them enough. I thus wished to get closer to the elements, the Earth, the Air, the Water and the Wood which are familiar to me and which however I do not look at enough. I observed, contemplated then meditated, I exposed myself, at least I coped without cheating, in order to become one with the moment and these elements. To be with them, to go to the essential, to the simplest, and to be as close as possible to our origins to perhaps be better reborn and perhaps for the first time, to live. It is this reconnection to our origins, this nature, ourselves, that I wanted to share with you."
---
• Date : from June 17th to September 17th 2023
• Place : Château-musée de Noirmoutier, Pl. d'Armes
85330 Noirmoutier-en-l'Île
---
Translation of the following article by Art Trope Gallery's team: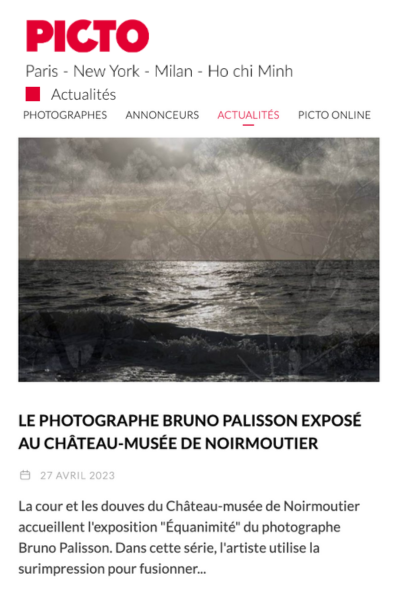 ---