LA GAZETTE NEWSPAPER PUBLISHES ARTICLE ON PAINTER BARBARA CHRISTOL
---
---
Artists to follow
BARBARA CHRISTOL Geometry and Wool
A young visual artist from Nîmes, Barbara Christol creates paintings that are a cross between geometry and architecture. She creates her works from wool.
"The line underpins my work, and I've had a taste for geometry ever since I was a little girl. I like the idea that with simple shapes, circles and squares, you can create a city with perspective and depth effects", says artist Barbara Christol. In residence at the Collège Révolution in Nîmes, and after workshops with pupils on the theme of "Art, Nature and Architecture", she is continuing her series, Paysages Intérieurs, which will be on show in her huge studio from June.
For her paintings, which range in size from 5 cm to 260 cm, she uses a mixture of acrylic and graphite. Her tools? Compasses (she has forty of them, in all sizes!), plumb bobs… all traditional. Her work is strongly influenced by the Nîmes region. "From childhood, we're immersed in this world of stones and ruins. I create my work using this framework", she explains.
---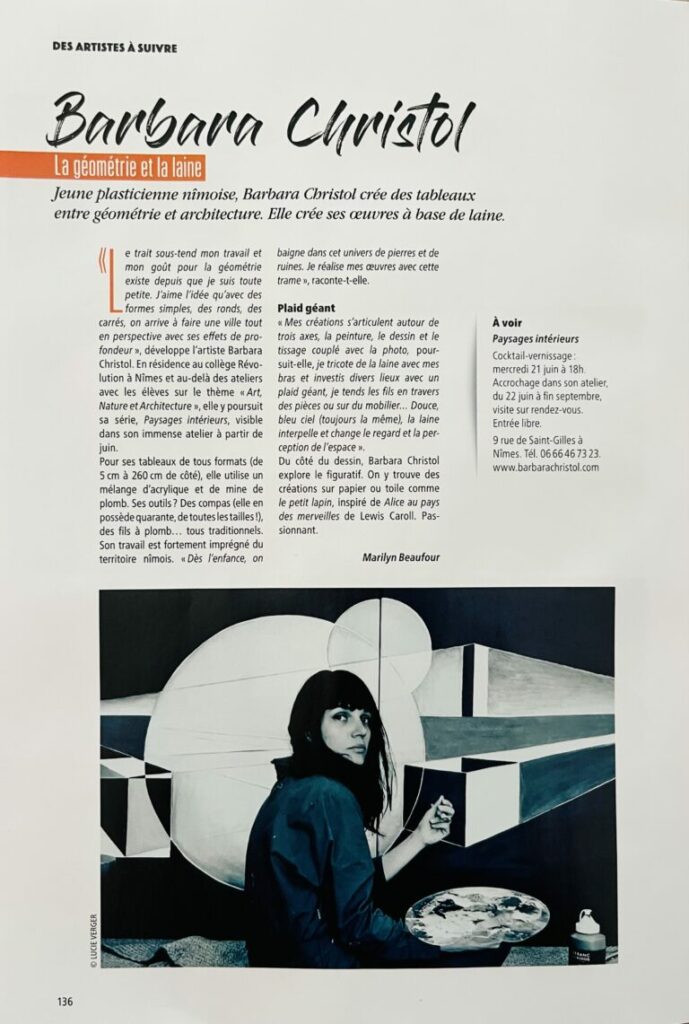 ---
Giant blanket
"I knit wool with my arms and take over various places with a giant plaid, stretching the threads across rooms or onto furniture… Soft, sky-blue (always the same), the wool challenges and changes the way we look at and perceive space".
As for her drawings, Barbara Christol explores the figurative. There are creations on paper or canvas such as the little rabbit, inspired by Lewis Carroll's Alice in Wonderland. A fascinating collection.
Marilyn Beaufour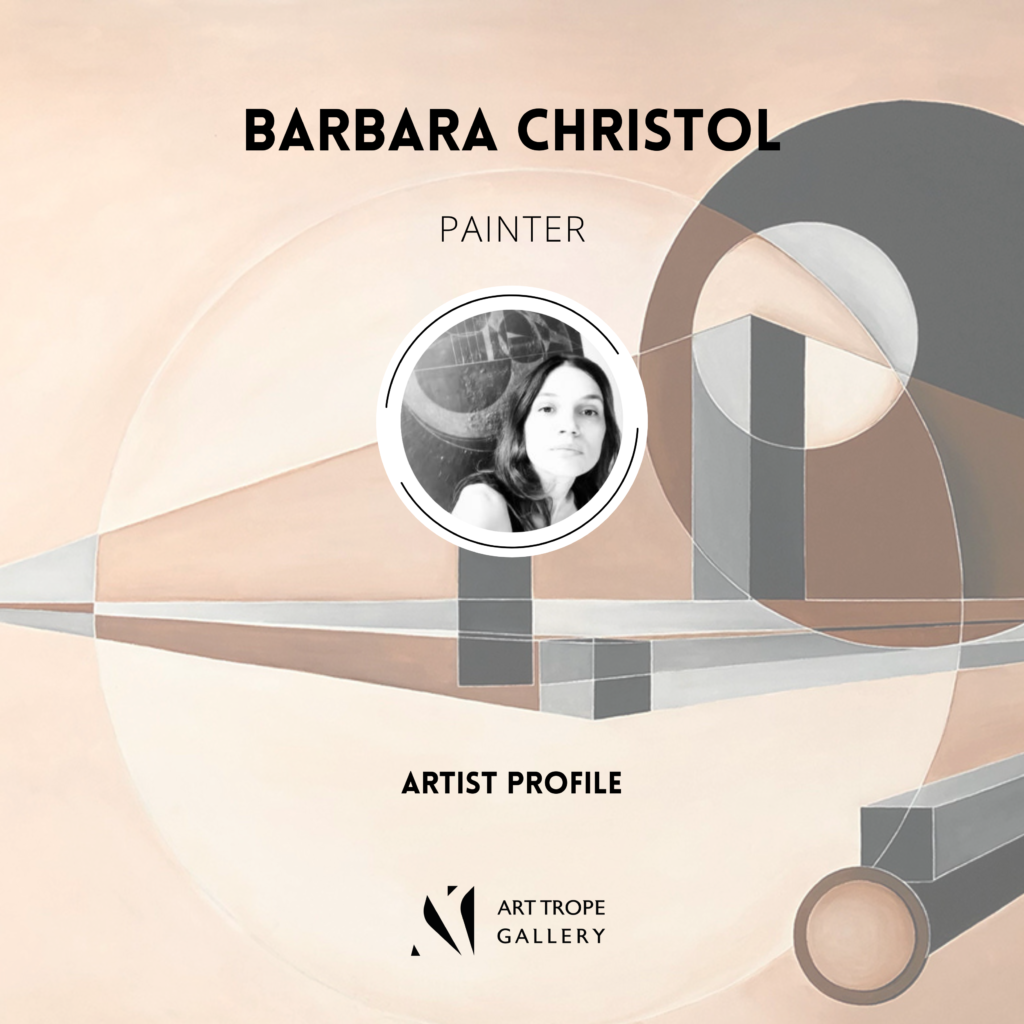 ---
Barbara Christol considers creation as a labyrinth, where the artist reaches the crossroads through trial and error, chance and repetition, while maintaining a common thread. Very concerned by the artisanal nature of her work, the painter fluctuates between figuration and abstraction. The line is omnipresent in her works as it is for her the bridge between both, the common thread. Barbara mixes mostly classical and traditional techniques to match with more contemporary ones.
Barbara Christol weaves and unweaves a work whose subjects intertwine indefinitely in games of full, empty and untied. The Painter offers architectural universes highlighting an optimistic perspective of the world, where the place of Barbara Christol and her gesture act as a revelator.
From an early age, Barbara Christol grew up in the world of art and had a passion for drawing. Barbara studied at the Beaux-Arts de Nîmes and later attended several painters' workshops to perfect her techniques.
The Painter understands that she must deepen her knowledge in Art History and joins the prestigious University La Sorbonne in Paris up to the Doctorate in order to elaborate her own plastic and aesthetic research. Barbara Christol's pictorial work has become unique over the years as she has developed a plastic and aesthetic practice revolving around balls of wool. The artist creates series of ephemeral weavings that she exhibits in institutional places, in nature, or private spaces.
The thread is always there, in her paintings, either physically or with the omnipresent use of the line. Figuration and abstraction are interwoven around favorite themes: space and play.
Geometric figures infused with poetry move into landscapes, mountains, architectures, all underpinned by the structural lines that act as threads in the compositions. Barbara Christol's works are regularly exhibited and are part of private collections in France and the United States.
---
---
---